End of an Era -- S&M Sniper Ceases Publication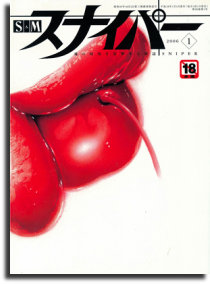 Well, I must say, this came as quite a shock.
The well-known magazine,
S&M Sniper
, has ceased publication after a near 30-year run in business. I don't have any inside information but it's pretty easy to arrive at some conclusions which are probably correct.
First, there's the economic situation. I won't recount the data (because it's too depressing), but Japan has been particularly hard hit.
Then, of course, there is this new paradigm we seem to be experiencing where a lot of print publications are going under, or hanging on by the skin of their teeth. When a newspaper like the New York Times starts losing money, you start to really wonder what's going on.
Things are moving to the web. S&M Sniper is no exception. They've had a web presence for a long time. So it looks like they're going to try to make a go of it as a web-only publication.
I used to know someone over there but I'm not sure if he still works there or not. I sent an email. If I get any more info, I'll pass it along here.
In the meantime, best of luck to S&M Sniper on the web.
Update
: That was fast! It turns out my contact is now the editor-in-chief of Web Sniper. He confirms that Sniper is now a web publication. A long article originally in Japanese has been translated into English. It's a little rough but I am posting it here in its entirety. You will need to use your imagination a bit, but this is fascinating reading.
Hit the Read More link for further coverage.

S&M Sniper suspends publication.

When the news was heard, the writer did not feel so much surprise. The talk that Sniper was facing a close contest in the number of sales departments considerably was fairly heard from before. Suspension of publication also had the feeling that it was probably a question of time.

Above all, it is a hopeless predicament of the adult magazine for the past several years, and was paralyzed into the word "suspension of publication", completely.

In an Action Camera (Alligator Magazine), Dela Beppin (Wisdom Publications), Top Speed (ex-contribution photograph, Sun Publications), and Actress (read) will go out of publication in suspension of publication in 2004 and 2003 five years ago.

The adult magazine which built momentary cost, such as Gokuh (Bauhaus), Urecco (Million Publications), Chu (Alligator Magazine), and Pent Japan (ex-Penthouse Japan, Bunkasha Publishing), also after that has gone out of publication one after another.

A little, although a coat color is different, suspension of publication is announced for the Monthly Playboy with 33 years of history, within the year. If it becomes a little more minor magazine, it will be like (which it cannot finish writing any longer).

And that into which the magazine which remains now is also changing greatly from once space depending on supplementary DVD is almost the case. And SM magazine which is a genre to which a S&M Sniper belongs. is in an annihilation state.

As SM magazines other than Sniper, only the novel magazine, SM Maniac (My Way Publications) is.

That Maniac Club (Sanwa Publication) is a bi-monthly from 2006. Others, as a bi-monthly, SM Novel (My Way Publications) and there is SM Network (Sunny Publications) which is an introduction magazine of an SM system AV.

The time when ten or more magazines competed fiercely once and SM Selection (ed. possibly SM Select) (The Third Tokyo) recorded number of copies of 150,000 copies on the golden age especially, is dreamlike.

A Tale Club (ed. probably Kitan Club) is called the originator of SM magazine of Japan. It is 1950 that the Tale Club (Kitan Club) started as a true story magazine changed the route into the maniac centering on SM and the fetish magazine.

Though threatened by the authorities' pressure, etc., a maniac's hot support is gained popularity.

If SM Selection of the compact pocketbook version size and tight-binding color photogravure will start and hit in 1971 the back is followed as SM Fan (Librarian Fringe), SM Collector (Sun Publications), SM Top (bookstore of the seifuu), and SM King (Demon Pro and Ocean Books), A Horsefly Hunter (it is change of title, Sun Publications to SM Tale behind), SM Frontier (Sanwa Publications), etc. -- one after another -- an appearance. And a S&M Sniper will start in 1979.

While mannerism-ization was cried for without the ability of the above-mentioned SM magazine slipping out of unchanging SM view in shibari and an enema easily, the space of the S&M Sniper was too novel.

A cover is an illustration of Yosuke Onishi who was dealing with the poster of Parco first. And the pop and modern illustration frontispiece of the Okudaira Ira which is a standard-bearer of a comic new trend.

Furthermore, photogravure in which it is full of the feeling of a life by the Araki Nobuyoshi used as the face of a Sniper henceforth. Kimio the editor and truth Miyadera in connection with a Sniper are telling the first publication concept like this from the first publication time.

Although considered as the taboo, in it, the Kurai of it being considered to be the real thrill to read SM magazine of a pocket edition secretly behind closed doors those days, and breaking it is carried out too, and it is too poor.

Then, the format was made into inside close of A5, and time was all stolen with good of SM Collector of the same format. It is a visual section too that the back gives impact intense for readers. The time is also going in the direction by diversification of media. Although it was a bet, the first issue sold.

Although the photograph of Araki Sun also had severe criticism in part well, it was popular in general.

The cost price had also started. Did the extravagant intention and the high-class intention match readers' needs? (S&M history of Sniper January 1989 issue SM magazine).

If the Sniper of the time of first publication is actually looked at now, a cover, the illustration of the beginning of a book, the photogravure of the Araki Nobuyoshi, etc. will feel sure the newness clearly different from the existing SM magazine, but a beginning-of-a-book novel is the team demon 6 (ed. most likely Oniroku Dan), and is the format of SM magazine with which SM Selection also made an illustration and the photogravure of the second half as it is.

Expectation of the taste of subsequent Sniper may consume a dodge. But this new type of SM magazine was met with big applause. And the 80s were also a time when the world of SM which was only a fiction for readers till then is changing to nonfiction.

The third generation of Yoshikatsu Hayakawa, chief editor who will tow the real play side of a Sniper behind in a long-term series "Mustached Play Report" and "A Mustached Salon" looks back upon that time like this. I wanted to show readers SM as a real thing anyhow.

Since it was the time SM club came out exactly, it introduced every month, and the maniac's man was committed and the plan was picked up.

It is since there were no other magazines which do so and observe the spot of SM those days (above history of SM magazine). The first SM hotel "Alpha Inn" in Japan to Tokyo Azabu of 1979 when Sniper was started were opened.

SM clubs, such as Osaka 13 Amazon, Akasaka Blue Chateau, and Nakano's Nakano Queen, are born successively in the previous year. SM of Japan was the time to shift to what is experienced by itself from what reads, sees or is under an illusion.

Probably he gets hooked the real intention of a Sniper there exactly, and it also has the field fire "lit" the maniac's real intention. One big special feature Sniper that I accept it in addition to a real intention is subculture-oriented.

It begins from appointment of Yosuke Onishi from the first issue, the Araki and others, and slack members who meet and who meet, such as the Yoshida Cutlet (ed. possibly Yoshida Katsu), Miyanishi 3 (a total of), north Kenzo, the Naito Chin, Gen-ichiro Takahashi, Yasuo Tanaka, Shin-ichi Nakazawa, and Katsuhiko Otsuji (the Akase dry river bed common, contribute.

Sharp appointment which an illustration and those who understand, such as Kyoko Okazaki, the Sakurazawa Erica, and Yamano 1, even when it is comic understand.

Furthermore, Show Time, etc. with which the review irrespective of SM, such as a movie, music, and a book, was got blocked is like (which is the acute selection which does not look at a kind by a general culture magazine, either, and non-SM reader of checking only here also required).

Sniper was an existence which bears the subculture side of an adult magazine along with the "photograph age" (night-with-a-midnight-sun bookstore). Incidentally, although some magazines have challenged to SM Spirits (Million Publications, 1983), Topaz (Wisdom Publications,1993 first publication), etc. which make a "separate volume sniper" past, all have finished the combination of SM and a subculture ephemerally.

As for SM, the image that Sniper a little differed in a "sniper" also in special or an adult magazine became steadfast after the middle of the 80s. Sniper had succeeded in new branding in the adult magazine. However, it could be one of the causes by which Sniper has been driven even into suspension of publication again.

It is the final stages of the 90s a magazine and that the crisis of the adult magazine especially began to be cried for.

Although hot tremds, such as a hair nude boom, a (unintelligible) boom, and a rolled in one after another the first half of the 90s and the influence of the collapse of the "bubble" economy was the adult magazine industry which was not felt so much, although the internet which spread quickly from the second half of the 90s called it the magazine, it was what threatens existence certainly.

Having whispered about damping of the subculture is also these days. The subculture till then was what backing of an intelligence academic somewhere is felt as. Even if it did the erotic thing and the anarchic thing, the "cultural smell" that a deep meaning could be read in fact was felt.

However, such a subculture begins to go out of use quickly from the second half of the 90s.

The opinion "subculture does not sell" was able to begin to be heard from here and there (of the magazine community). "Spa" (Fusosha Publishing) which drove the name as a sub Karroo System weekly magazine reduces a subculture color, and changes a route.

Digital system culture magazines, such as Wired (DDP Digital Publishing), a Digital Boy (Mainichi Communications) who appeared, Cape X (ASCII), and Guru (Shoeisha), are discontinued from door to door like the bamboo shoot after the rain in the mid-90s.

It changed for practical PC and IT informational magazine. Route change, such as shifting other subculture in the direction of entertainments, was conspicuous.

The strong work and the experimental work of the documentary color praised also by AV in the 90s are kept at arm's length, and the work which hammers out a straight eroticism came to be liked.

And the black-and-white page was lost and magazines called a color have increased in number altogether also in the world of an adult magazine. With the adult magazine, a black-and-white page has the tradition which deals with the interesting manuscript as straight books and magazines which are not erotic, and an anarchic plan, and it had scattered the subculture smell.

"If nakedness is shown in the color, monochrome is played liking and it is" was the consciousness of the adult editor of a journal of those days. And the creator of many subcultures, such as the Yoshida Tank, Kentaro Takekuma and the Tokiwa Hibiki, and Yoshida Australia, left the nest from there.

That a black-and-white page is lost means that such a subculture color disappears from the adult magazine.

With the present adult magazine, most of photo gravures other than a straight eroticism or a plan is not published.

Since the manuscript of about one book is needed if it tells why the subculture declined, I will limit for describing where the subculture element in an adult magazine went here.

It was inherited by what is called "reverse side mono-magazines", such as Gon, and True Story Knuckes (both Million Publications) and Bubka (Core Magazine). Having published such a back mono-magazine, most is an adult system publishing company.

That is, it can be said that the subculture portion of the adult magazine was separated and magazine-ized.

Moreover, Class B (Class Z?) subculture element in which there is a characteristic somewhat dangerous smell in an adult magazine flowed also into the underground site of the Internet represented by Channel 2 (ed. 2 Channel, well-known Japanese BBS which has been sued a number of times).

In the fun of barely criminal, a magazine should not match a network. Unlike the high network of anonymity, a business periodical cannot cross a dangerous bridge.

Now, a doubtful charm which the adult magazine had once has also been lost. Now, only the "eroticism" remains in the adult magazine.

Sniper continued opposing such a flow.

Naturally. the cover was Yosuke Onishi, it files also at the time of 2006 changed to side stitching from binding in the A5 edition which was an old tradition, and the Yoshida cutlet of a wide illustration, the column of Camel Okayama (Akira Nagae) or Matsuzawa Kureichi, and Show Time are living.

However, the front also heard the rumor that number of copies of a Sniper had fallen off fairly, more fairly than this. I hear that it is bad for a magazine to change, i.e., for sales. The time of a Sniper hearing that it changes to side stitching, such too, I considered.

And the January 2007 issue of one year after and the cover of Sniper changed from Yosuke Onishi's illustration to the photograph at last. When calling it Sniper, an end came to the tradition for 28 years of Yosuke Onishi's real illustration.

At this time, there was still no big change in the contents. However, in renewal of the January 2008 issue, the series has been closed sharply. "A Certain Unusual Person's Bodily Crush Report" of Tetsuo Amano who is the long-life series exceeding 240 times, and that Show Time also of the illustration of the Yoshida Cutlet have been lost.

Furthermore, if this number is often seen, one will notice thick corrugated paper stuck on the inside of the front cover.

Yes, DVD will be attached to an appendix from this number every month. And the number of pages for thickness of the corrugated paper is decreasing. This was a change seen with other adult magazines.

That is, the number of pages is reduced (in many cases, it is a black-and-white page), and it is a substitute. A DVD is attached to an appendix and the price is raised. Sniper performed renewal as this very standard tactics. The price went up from 1,600 yen to 2,000 yen, and by the time the page cut 200 pages from about 280 pages, it had become.

Sniper, which was a 300-page magazine once exceeding the limit of inside binding, becomes fairly slim. It seems to already have finished the role of the magazine Sniper at this time, speaking honestly.

No, almost all the adult magazine supplements. It loses (the all) existence value in the present condition for which it must depend on DVD but is good. Isn't an adult magazine only a booklet of an appendix of DVD any longer. Isn't it expedient only for selling DVD at a bookstore?

Sniper had one urban legend rumor: It is the quantity of the amounts of advertisements. Since the advertisement of an SM club, etc. was contained in large quantities, Sniper heard a (unintelligible) and the talk of 10 million yen or more that profit could be taken even if it does not sell at all, by here and there (of the industry) only on the profit.

Although there may be some persons who receive this as a negative talk, in fact, almost all Japanese magazines are realized by the advertisement. Since its advertising effectiveness will decrease if especially a fashion magazine, etc. has too many number of copies, the talk of adjusting number of copies purposely, etc. is also a certain degree.

In such the magazine industry, only the adult magazine and the comic magazine had become a profit profile for which it does not depend on advertising. It is because the secondary income, after using a series as a book in the case of a comic magazine, is high, and, in the case of an adult magazine, there was a situation of since advertisements are hard to gather on the problem of an image.

That is, the erotic magazine was carrying out purest trade on a magazine community in a sense called a match in real sale.

However, the tendency to depend also for an erotic magazine on an advertisement has been conspicuous from depression of the real sale for the past several years.

Also asked the plan "the magazine which can take the advertisement of an online dating website a lot will be made" etc. to some years ago, and although it is around 300 yen like DMM (Go Tea) and Nao DVD (Sanwa Publications), since the advertisement of AV occupies about one-third of the space, a magazine of super-budget prices which is called with DVD and which is not believed is possible.

Sniper can say that it had introduced the prompt business model general to an adult magazine.

Therefore, Sniper is okay. Everyone in the industry thought so. It is to become somehow by an advertisement, even if it does not sell for the time being.

Suspension of publication of the S&M Sniper was told in October 2008. Although it wrote that the writer was seldom surprised at the beginning of this manuscript, there was still a big loneliness.

Moreover, it is because the danger of a business model called the adult magazine for which it depends on advertising now with the feeling that a magazine important (one) will disappear has been proved. It is useless, even if it attaches a DVD and depends on uselessness and advertising.

Where should the adult magazine go after this?

Suspension of publication of Sniper is likely to symbolize the end of an adult magazine in various meanings.

Yasuda Rio